Combining the passion for bicycles and a love of good food, the Food Valley Bike route travels through the territory of Parma, a Unesco Creative City for Gastronomy.
The cycle path includes 70 kilometres of flat route divided into three stages connecting Parma to Busseto, a town in the lowlands of Parma (Bassa Parmense) where Giuseppe Verdi spent much of his life, based on a single common thread: the typical products of the local cuisine.
More precisely, there are two topics that guide cycling enthusiasts along the route, pasta and cold cuts, the undisputed protagonists of local cuisine you should definitely try along the way.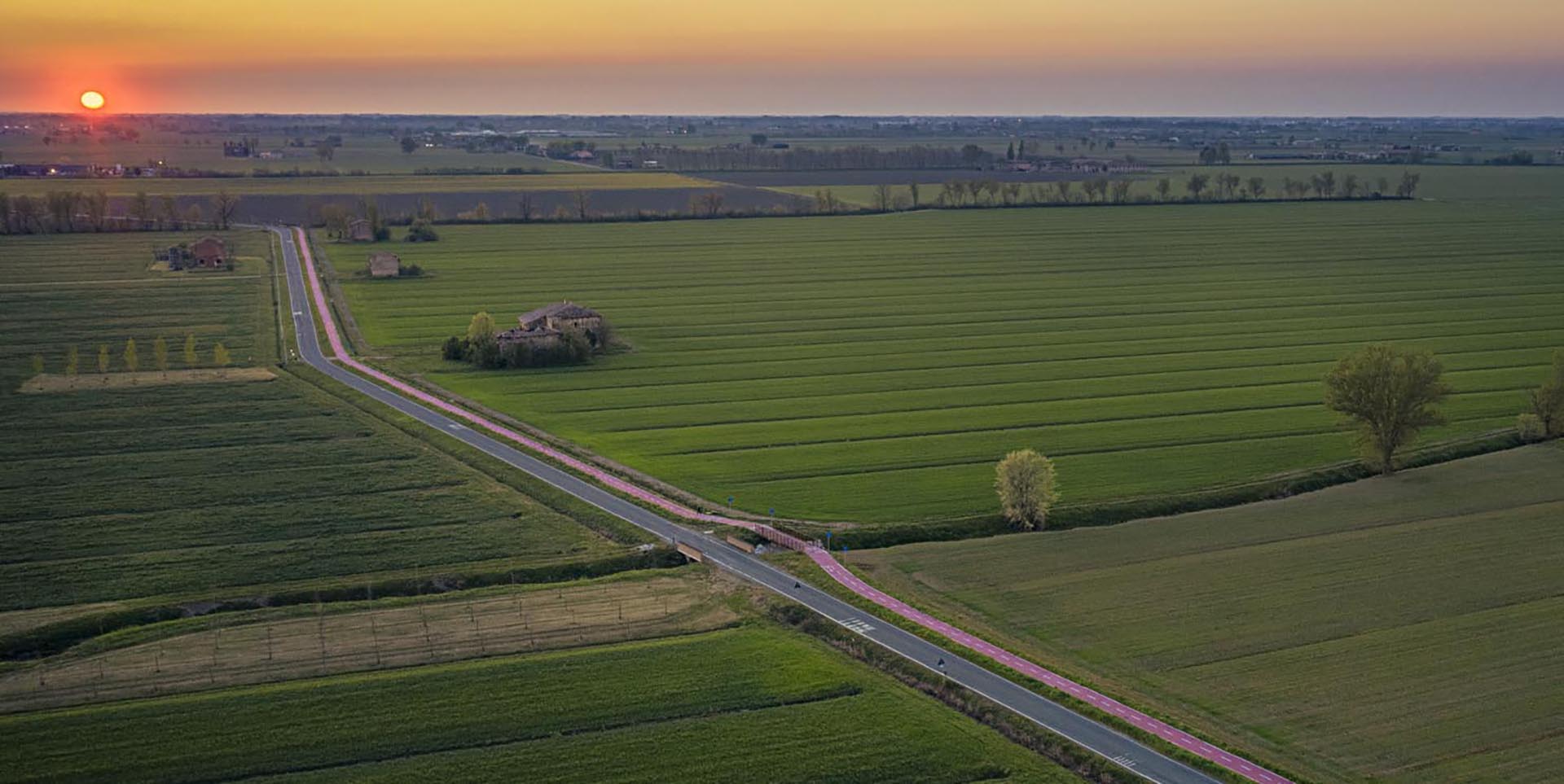 ---
The stages
Given its flat nature which often follows the course of the Po, the Food Valley Bike can be ridden by cyclists of all ages and abilities. Its three stages are perfect opportunities to discover the villages, castles and museums that tell the history of this wonderful area. Download the dedicated app for further details on the route.
1 | First stage: Parma - Colorno
Length: about 40 km (28 miles)
The main theme of the cycle route clearly emerges in its first section. This stage develops in the area where Parmigiano Reggiano cheese is produced, but also of a typical fresh pasta dish such as anolini, of Sorbolo tomatoes and Lentigione zucchella plums.
Taking the path near the Barilla factory, after cycling for about 40 kilometres you arrive at Colorno and its palace, the so-called Reggia. Along this route you can also take a detour towards Brescello, where the film adaptation of Giovannino Guareschi's work Don Camillo and Peppone was filmed.
2 | Second stage: Colorno - Roccabianca
Length: about 19 km (12 miles)
After tasting the 'tortel dòls' - a special type of tortelli made with vino cotto (cooked wine), mostarda jam and breadcrumbs - and visiting the marvellous Reggia di Colorno, it is time to continue along the cycle route towards the village Roccabianca.
Cycling along the Spalla Cruda di Palasone route you will first reach the village of Sissa Trecasali, but Roccabianca is not far away. After a short stretch of just 5 kilometres along the Ciclabile dei Ciccioli cycle route you will come within sight of the small town, famous for its 15th-century castle that can still be visited today.
3 | Third stage: Roccabianca - Busseto
Length: about 16 km (10 miles)
The finishing point of the Food Valley Bike is Busseto, but many attractions are yet to be seen along this route. An example is Polesine Zibello, the cradle of the famous Culatello di Zibello DOP cold cut, which can be reached by riding about 10 kilometres along the cycle path of the same name. After tasting this speciality, food enthusiasts will also appreciate a visit to the Culatello Museum.
Once you have taken the Spongata cycle path and arrived in Busseto, all you have to do is enjoy the Verdi sites before going back to your starting point (which can also be travelled by train).
---
Download the GPX track at:
---